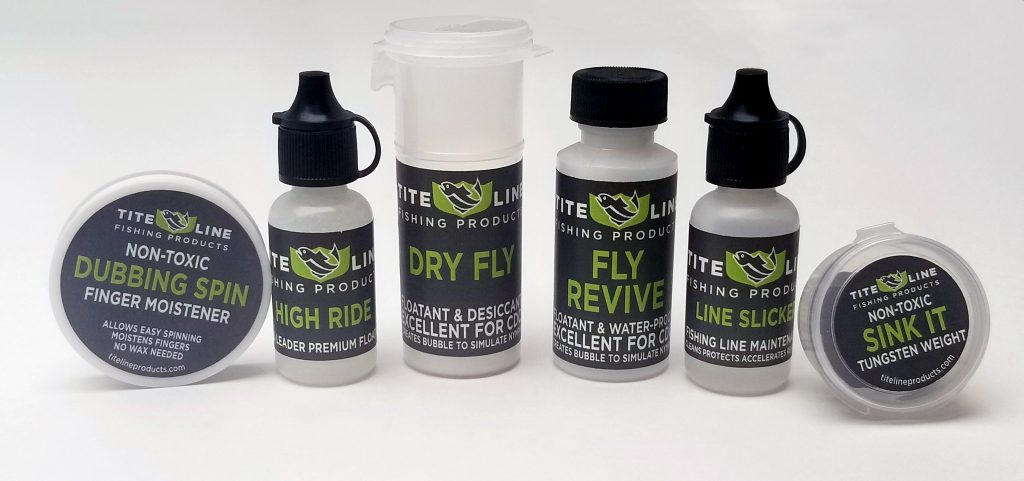 The Titeline Products Lineup!
The same great Titeline products that help you catch more fish, with a New Look!  We have taken our premium products to the next level.  Here at Titeline we strive to stay at the top of the market and provide quality products that will give superior results over and over again.
DUBBING SPIN– Not a wax, this product allows you to place dubbing on your thread without having to lick your fingers.  Tired of getting feathers, fur and other materials stuck on your fingers and tongue?  If you do not use a wax on small flies but lick your fingers to help spin dubbing, this product is for you.
HIGH RIDE– Titeline Products has developed High Ride, a guaranteed temperature-stable grease that will not get hard in cold weather or thin in hot weather.  This revolutionary new product excels on no hackle flies, spent wing flies, compara duns, and any type of emerging patterns. High Ride will outlast all other grease floatants, is insoluble in water, and will not cause an oil slick.  Titeline Products has freezer tested this product at temperatures below 20 degrees.  We have also dashboard tested this product in temperatures over 100 degrees.  We're excited to say that the viscosity remains the same!
DRY FLY– This amazing product will clean, dry, and waterproof in one simple application.  For hackled flies, CDC flies, and deer hair flies there is no better way to keep your flies floating high and dry.  This product can even be used on weighted nymphs to produce an actual air bubble just like the natural.  By following the directions on the bottle, your fly will float better, higher, and longer than the other shake and dry type floatants.
FLY REVIVE– This amazing powder uses its hydrophobic properties to restore the buoyancy of water logged flies.  It is best applied to a fly that has been dried either with a desiccant or a cloth.  Then, work the powder into the bristles of the fly using the applicator brush.  Once the fly is coated, a puff of air or false cast will clear the fly of excess dust.  The fly will float like brand new!
LINE SLICKER– This slick new product cleans, restores, and protects in one application.  Best of all, this product cures to a finish quickly.  These four factors can actually increase the life and performance of all fly lines.  Since this product cures to a finish rather than just lubricates, it also repels dirt, avoiding those nasty build up problems.  As a bonus, this product may be used to clean fly rods and polish rod guides.  However, we must caution you, the use of this product may cause you to throw some serious line!
SINK IT– Sink It tungsten putty is a great addition to your equipment.  It is heavier than lead but is pliable when warmed to body temperature.  The handy, non-toxic substance is ideal for adjusting your leader when nymph fishing.  It is pliable when warm making it easy to adjust the weight.  It hardens in the water so that it stays put on your line.